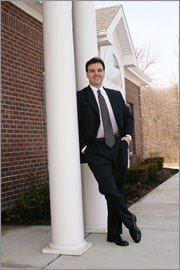 Guy is a twenty-two-year veteran of the payroll, human resource, and employment services industry. Originally starting with the placement of home healthcare and eldercare services, he expanded his business to include nannies and other household staff, and named the company A New England Nanny. In 1991, he founded GTM Payroll Services to provide payroll and tax administration for households, the first in the industry. In 2002, GTM expanded by adding business payroll services to complement the fast-growing household payroll and tax processing operation. GTM continues to be the leading provider of household payroll and tax services, and has been chronicled in Business Week, The New York Times, and Kiplinger's. For four consecutive years, the company has ranked among Upstate New York's Top 25 Fastest Growing Companies, and in 2007 was named to INC Magazine's prestigious INC 5000 list of companies.

The author of How to Hire A Nanny: Your Complete Guide to Finding, Hiring, and Retaining a Nanny and other Household Help, Guy is widely recognized as the Nation's Household Employment Expert. Frequently cited/interviewed in regional and national news outlets, Guy has made countless TV and radio appearances. Conducting educational seminars throughout the country on the household employment industry, household human resources, nanny payroll taxes, IRS audits, household tax compliance, and dependent care services for corporations, Guy is also a work/life consultant to Fortune 500 companies, as well as a licensed broker for workers' compensation and employee benefits.

A household employer himself, and an active entrepreneur in New York's Tech Valley, Guy is the former president of the Albany Chapter of the Young Entrepreneur's Organization and graduate of the MIT and INC Magazine program Birthing of Giants. Guy believes in sharing his personal and professional successes with the community, and has been a long-time supporter of the Make-A-Wish Foundation, as well as donating time to a number of other community/charitable causes. Guy has served as a Board Member for the International Nanny Association and the Association of Premier Nanny Agencies. A graduate of Siena College with a degree in Accounting, Guy now serves as a Siena College Associate Board Trustee. He resides in Upstate New York.