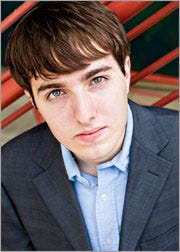 As a child, Kaleb Nation had to be forced to write one page a week in creative writing. But after he finished his first story, no one could make him to stop. Age twelve, he telephoned the editor of a major publisher to pitch his book, but got to talk with security instead. Years later, his books are now produced by publishers worldwide... including the one who first turned him down.
Aside from writing, Kaleb is a blogger and a former radio host. He turned 21 in 2009 and currently lives in California.
Visit Kaleb online at www.kalebnation.com.