The first personalized Sesame Street book to focus on autism, We're All Amazing is a beautiful story about acceptance.
Your child joins the story as a purple Muppet and meets Elmo and his friend Julia, who has autism. As they all play together, your little one notices that Julia seems a little different. She tends to avoid eye contact, flaps her arms when she's excited, and is sensitive to some noises.
But as it turns out, your child has a lot in common with Julia! Although every kid may be special in their own way, they all want to have fun with their friends.
Perfect for siblings, friends, and classmates of autistic children, this story shows children how to interact with people who think, play, and express themselves differently.
Add your child's name and photo to We're All Amazing and bring the key themes of acceptance and patience from the story to life.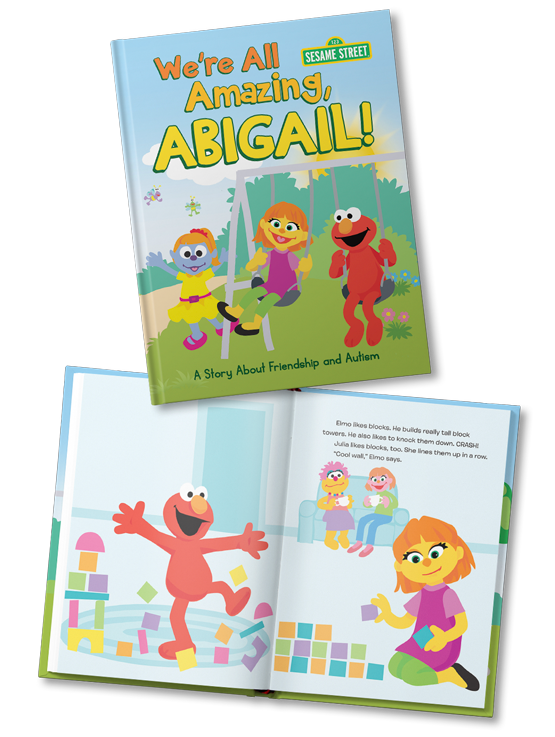 Sesame Street Autism Initiative
In the U.S., 1 in 68 children is diagnosed on the autism spectrum (ASD). While the diagnosis is common, public understanding of autism is not, and this can make life even more difficult for children with autism. All children want to feel safe, happy, and loved, and all children have something to contribute—unique perspectives and talents that help make the world a richer and more interesting place.
That's why Sesame Workshop created Sesame Street and Autism: See Amazing in All Children, a nationwide initiative that offers families ways to manage common challenges, simplify everyday activities, and to grow connections and support from family, friends, and community.
Resources for Kids
We're All Amazing is a powerful reminder that a little bit of kindness goes a long way. Help your child internalize this important message with activities to promote understanding and acceptance among all children.
In the back of the book, you and your child will find:
Activities that explore how Julia and your child are different, and how they are the same

Reminders that kindness, sharing, and patience are important in all relationships

Tips for interacting with autistic children, like using fewer words, repeating yourself, and waiting patiently for a response
Resources for Parents
We're All Amazing Grown-Up Guide
This free downloadable guide includes information about autism, how to understand kids with autism, and ways to support their parents and caretakers.
Inside, you'll find suggested responses to kids' common questions about autism, tips for planning playdates, and more.