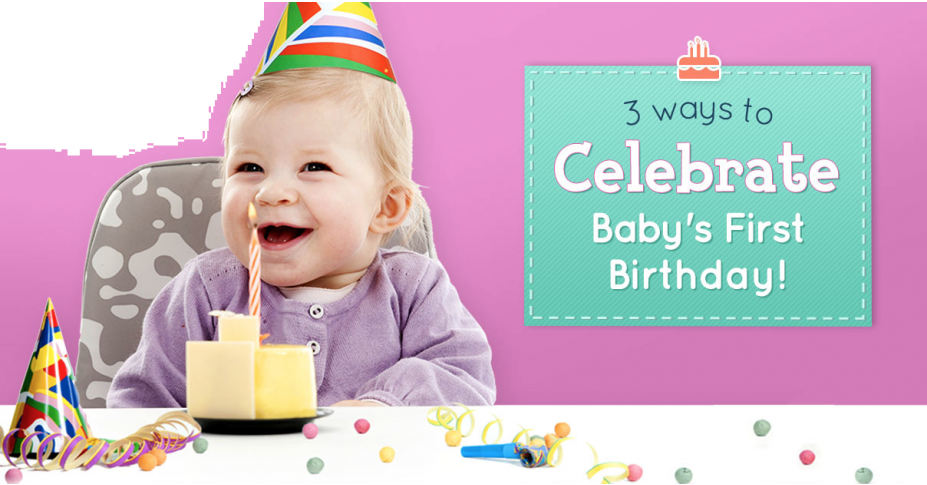 3 Ways to Celebrate Baby's First Birthday
Your baby's turning 1! It's time to celebrate! Here are 3 ideas to make your kiddo's first birthday party one to remember. And don't forget to download our First Birthday Checklist to help you stay on track from mailing the invitations to picking up the cake.
1) Wow them with the perfect gift
Want to make the birthday boy or girl smile? Put them in a story with their favorite characters! From classic friends like Mickey Mouse and Curious George to new pals like Dora the Explorer and Spongebob Squarepants, we've got a birthday book your child will love.
When it's time for them to open their special gift, make sure you have a camera ready—you'll want to catch that oh-my-goodness-is-that-really-me look for the family photo album! 2) Set up a photo shoot
Birthday parties are full of picture-perfect moments. Make the party room into a mini studio by decorating your child's high chair with balloons and streamers. Arrange the gift table behind it to create a festive background, then snap away!
When it's time to write thank you notes, print one of your favorite shots on a postcard and write a message on the back. Not only will your guests appreciate the thank you, they'll get to relive a piece of that fun day all over again!
3) Fill out a first year questionnaire
As they grow older, your child will want to know all about what they were like as a baby. Answer a few fun questions on their behalf, and you'll be able to tell t hem every detail! Here are a few samples to get you started:
My favorite food is… (bananas, graham crackers, cake)
I love to… (dance, watch my big brother/sister, play with trucks)
My favorite book is…
I don't leave home without… (pacifier, blanket, teddy bear)
Ready to start planning? Download our First Birthday Checklist now!