We know, we know – our last entry was an autumnal craft theme, too, but there's just so many awesome Halloween crafts you could do! This week, we've rounded up crafts with Halloween flare that add a spooktacular touch to your home. Get every little ghoul and goblin to help out with these easy projects - and make some time for a Halloween story from our friends at Sourcebooks Kids!

JACK-O-LANTERN CRAFTS
While pumpkins are versatile and can be used for an overall fall feeling, there's something extra spoopy and delightful about the gleam of a jack-o-lantern. Upgrade plain pumpkins or mix them up around the house for a more Halloween scene.
1. Paper Cup Lantern - Make paper cup lanterns that will give any space a Halloween glow up.
2. Construction Paper Jack-o-Lantern - This video tutorial is so simple you'll scream! 4 materials needed and under 4 means to complete it? We'll be making more than a few.
3. Coffee Filter Jack-o-Lantern Art - A perfect craft that can be done multiple times and produce different results, which means hours of fun and creativity! Experimenting with tie-dying different Halloween colors is sure to produce some quality works of art.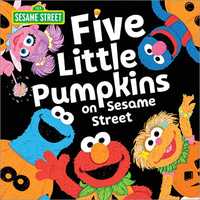 SUGGESTED READING: 5 Little Pumpkins on Sesame Street
Come along for a spooky night of Halloween fun with this adorable adaptation of the classic sing-along song "Five Little Pumpkins" with beloved Sesame Street characters!
[Amazon] [Barnes & Noble] [IndieBound] [Sourcebooks]

MONSTER CRAFTS
Sure, monster have a reputation for being scary, but we've rounded up some kid-friendly crafts that make them seem a lot more merry!
1. Leaf Monsters - Remember those simple autumn leaf crafts we suggested last time? Well, we hope you saved a few for this monstrously easy leaf painting project!
2. Monster Headbands - In this video, there's a lot of cutting out pieces. However, the difficulty level of this craft could easily be adjusted by precutting pieces for younger kids. Or, by preparing the headbands, but letting kids create faces with crayons, markers or paint instead!
3. How to Catch a Monster Activity Kit – If you're looking for a whole bag of fun, this is the one! Our friends at Sourcebooks Kids have created an activity kit with: a coloring page, maze, word find, spot-the-difference, and more!
SUGGESTED READING: How to Catch a Monster
Our monster pick had to be The New York Times Bestselling Picture Book How to Catch a Monster! A laugh-out-loud adventure, this story proves that appearances can be deceiving as a young ninja faces his fears and meets the creature lurking in his closet!
[Amazon] [Barnes & Noble] [IndieBound] [Sourcebooks] [Personalize on Put Me In The Story]
CREATURE CRAFTS
There are tons of creepy crawlies and familiars that go bump in the night, but these cute and simple crafts remove all the fright.
1. Paper Spider Hand Puppets - Though spiders usually give us the creeps, we couldn't stop shrieking over the cute puppets in this video! A craft that's cute decor, but also good for playtime.
2. Black Cat Paper Handprint Craft - Construction paper, markers, scissors, glue, and a video that's under two minutes for creating?! No debating, this cute cat craft is a win.
3. Trick of Treat, Bugs to Eat - Another bundle of fun from our bookish friends at Sourcebooks Kids - this bat-centric kit includes: coloring pages, build a bat, a word search, and more.
SUGGESTED READING: Trick or Treat, Bugs to Eat
Trick or treat, smell my feet, give me lots of BUGS to eat! Follow along as a young bat takes flight on Halloween night and eats lots of delicious bugs along the way. Includes educational backmatter with lots of fun facts about bats and their favorite insects.
[Amazon] [Barnes & Noble] [IndieBound] [Sourcebooks]
As the evenings get chillier and the daylight fades faster, there's no better time to gather around the craft table and get creative together! You'll get some cute Halloween decorations and create warm memories together.
Have a Happy Halloween,
Your Friends at Put Me in the Story