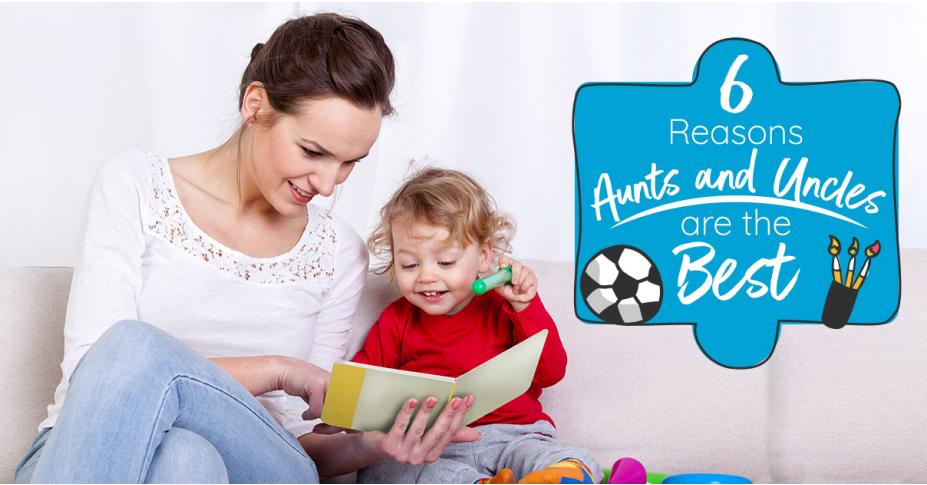 6 Reasons Aunts and Uncles are the Best
Every year we celebrate moms and dads, honoring them on their own special days—and we should! Parents are incredible. But what about those other grown-ups who are an important part of our children's lives? Whether or not they're parents themselves, aunts and uncles are a special part of our families, so here are 6 reasons they're the best!
1) They spoil your children. Since they don't get to see their nieces and nephews every day, aunts and uncles are more likely to have some special treats up their sleeves when they stop by.
2) They are supportive. When they come to your little one's soccer games, they're the loudest fans in the crowd. Just like you, they want your children to dream big, and they'll cheer them on every step of the way.
3) They set a good example. You may remember your brothers and sisters as annoying or embarrassing, but your children look up to them! Aunts and uncles provide a positive influence and are able to introduce your children to different ideas and values simply by being themselves.
4) They are fun! Aunts and uncles love spending time with their nieces and nephews, and better still, they go all-in! They get messy during craft time and at the park, and when your little ones want to play pretend, they're the first ones to dress up and get into character.
5) They are cooler than you. Aunts and uncles aren't responsible for day-to-day discipline, so they're more relaxed and willing to bend the rules. Plus, once kids reach a certain age, they don't want to be like Mom or Dad; they want to be like their awesome Aunt Kat or their wacky Uncle Patrick.
6) They love your little ones as much as you do! They show up for birthday parties and recitals, they change diapers and kiss boo-boos, and no matter how many kids you add to your family, they always have more love to go around.