Summer break is here for most little readers and optimizing play time is at the top of the list for summer activities. While Put Me In The Story encourages fun in the sun, we also insist on reading a ton!
Without the structure of a classroom or librarians to suggest new titles, some children's reading tapers off until the school year starts up again. In fact, studies have shown that "summer learning loss" is a real problem. According to NWEA, a research-based, not-for-profit organization, a recent study found that "the average student lost 17–34% of the prior year's learning gains during summer break."
After a long, uncertain year that kept many kids indoors, it can be difficult to keep them excited about reading through summer. We've compiled a small list of summer reading challenges, books full of adventure, and tips for encouraging kids to keep coming back to books!
SET GOALS, CREATE CHALLENGES, AND KEEP SCORE
Video games have popularized levels, challenges, and rewards to spur kids forward in play – and why shouldn't we celebrate reading in just the same way? There are countless ways to create challenges and encourage kids to keep up their habits, from checklists to apps.
A simple online search for "reading trackers" offers numerous free and easy tools for finding a format that suits your family. Customizable charts, crafty banners, and the standard reading log are all fun ways that can be as complicated or as simple as your little reader needs them to be.
The simplest solution may even be a sticker and calendar system – turn it into a family competition with the 2022 Amy Knapp's Big Grid Family Organizer Wall Calendar and color code, write in, or decorate days with reading goals for everyone! Having the whole family involved and their progress easily visible creates excitement and models positive reading behaviors for kids to emulate.
If you can't wrangle the phone from little hands, there are digital options for keeping their interest, too. Book Riot's 10 Best Reading Apps for Kids highlights programs that help you track, teach, and acquire digital reading material to keep kids engaged.
READ FOR FUN
Luckily, simply letting kids pick and choose what they read is one of the easiest ways to keep them interested! According to Scholastic's annual Kids & Family Reading Report, one fact in the report has remained constant for the past 13 years - when kids choose for themselves, they're more likely to read.
"Across demographics, the majority of kids (89%) agree their favorite books are the ones that they have picked out themselves," and 88% say they are more likely to finish a book when it's one they've chosen, according to the report.
Shop online or in store – talk about covers, illustrations, genres, or themes your little reader wants to explore. Being available to guide kids towards age-appropriate content while encouraging them to choose books that pique their interest is a simple, but important aspect in encouraging reading.
If reading new books or expanding genres is of interest to your little reader, we've created the perfect printable Summer Reading Challenge Checklist with over 20 unique book types to check off your list!
We've also partnered with our bookish family at Sourcebooks Kids to show off their most exciting summer reads, perfect for pulling kids into a good book!
SUGGESTED READING: Prank Lab
A sure way to get kids to pick up a book is to pack it full of fun! Written by a quantum physicist and two science teachers, Pranklab shows kids how they can use everyday household items to exploit the laws of physics, biology, and chemistry through entertaining (and perfectly safe) activities.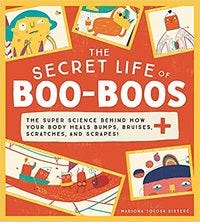 SUGGESTED READING: The Secret Life of Boo-boos
We can't fill every book with fun activities, but fun and icky facts can be just as capitvating for little readers. Discover the delightfully disgusting science of boo-boos in this colorful biology picture book. Why do bruises change color? Why do we get scabs? What does blood do? Find out the surprising scientific answers to these questions and many more inside!
[Amazon] [Barnes & Noble] [IndieBound] [Sourcebooks]
SUGGESTED READING: Except Antarctica

The perfect combination of adventure, facts, and utter silliness. Featuring a rogue group of cheeky animals who love nothing more than a challenge and a flustered, helpless narrator, this meta-leaning and hilarious picture book about animal habitats on every continent will have kids and adults giggling every time they pick it up.
Coming July 6, 2021!
[Amazon] [Barnes & Noble] [IndieBound]
Above all else, let kids see that you're excited about reading and can't wait to dive into the pages of your next big adventure together!
Have fun in the sun and enjoy summer,
Your Friends at Put Me in the Story