Birthdays are one of our favorite special occasions here at Put Me In The Story – friends and family coming together, sweets and treats galore, and our little ones get to be the shining star of their special day! But sometimes...summer birthdays can be hard to plan.
Families travel for summer break making it hard to coordinate a date, popular destinations are booked well in advance, and after exciting summer outings or trips, you may find yourself searching for money-saving tips.
But the best thing about birthdays is that they don't need to cost a ton to be filled to the brim with fun! Here are our favorite summer birthday themes and easy ways you can create fun, simple celebrations that make your little one's day special.
SEA AND SUN FUN
Whether it's pirates or mermaids, incorporating a refreshing ode to the seas is a sure way to please during the hot summer months. While keeping track of little ones partying at the public pool is possible, why not bring the refreshing fun to your own outdoor space?
A quick dash to the store to secure cheap materials like a kiddy pool, inflatable balls, water balloons, pool noodles, and water guns can transform a boring yard into a seaside arcade. Many water games can be played with a large group of kids, or just a few, and there's several combinations of fun things you can do - from simple water balloon fights to Pool Balloon Races Using Squirt Guns.
Kiddy Pool Games: Fill an inflatable or plastic kiddy pool with water and add balls or balloons to float on top. Let kids gather around the pool's edge to knock toys out with pool noodles or climb inside to splish and splash while they collect them. Whoever collects or knocks out the most objects wins.
Instead of just skimming the surface, also consider a Treasure Diving Game, as suggested on Pool Fun for Everyone. Instead of floating toys, gather cheap strings of beads, plastic tiaras, fake gold coins, or other trinkets that will sink so that kids must search the bottom of the pool to find them.
Decorations and Crafts: Thanks to the popularity of sea themed parties, there's no shortage of easy, DIY, or budget friendly decorations and crafts for setting a nautical mood. We've rounded up some of our favorites here:
DIY Jellyfish Party Decoration Craft Tutorial
Simple Solo Cup Pirate Hook Hands
Pipe Cleaners and Paper Crab Craft
How to Make "Mermaid/Fish Scale Tail" Decorations
SUGGESTED READING: Pirate Nell's Tale to Tell: A Storybook
When it's time to take a break from play and reapply sunscreen, this picture book is perfect for a sea-themed storytime. Nell the pirate uses her trusty Pirate's Almanac to sail the seas, despite that Captain Gnash doesn't like books on his ship. When their journey gets rough, it's Nell's pirate knowledge that saves the day and leads them to the greatest buried treasure of all...
[Amazon] [Barnes & Noble] [IndieBound] [Sourcebooks]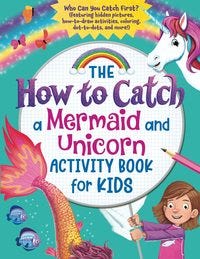 SUGGESTED READING: How to Catch a Mermaid and Unicorn Activity Book
Little ones already love the creative, crafty How to Catch Club Kids in the How to Catch book series, but this activity book takes things to the next level. When everyone needs a break from fun in the sun, grab this book of over 14 activities for kids to read and work through together.
[Amazon] [Barnes & Noble] [IndieBound] [Sourcebooks]
OUTDOOR AND EXPLORE
If personal outdoor space is scarce or you don't want to host at home, the park is the perfect place to let kids roam! Easy to accommodate any number of littles ones and full of fun to explore, you can easily create a nature or picnic themed party.
Nature Walking Activities: For exploring nature, you could create a scavenger hunt or use one of the many premade, free resources available online, like the 30+ free printables found on Buggy and Buddy.
Even without prepping a list, taking kids through a green space and discussing the plants, smells, animals, and noises they hear could be a unique experience. For a bit of a challenge, start a game of "I spy..." or ask kids to collect rocks and leaves that could be used for nature crafts later (consider these 20 Awesome Rock Painting Ideas or DIY Leaf Animals for easy fun).
Picnic Planning: If birthday cake and snacks are a must, then a picnic might be just the thing. While there are plenty of ways to go all out for a picnic theme, like THIS amazing party, it can also be as simple as a blanket to sit on and snacks to nibble in the park. Grab any set of blankets you don't mind using outdoors for seating, pack a basket (or bag or box) of food, and ask friends to meet and eat at your little one's favorite spot in the park.
If time is of the essence or many loved ones have dietary restrictions, turn your picnic into a potluck and let others bring dishes to enjoy. The experience of eating outdoors together is the true fun experience!
If your child is excited for a certain dish, consider finding a way to include them in the food preparation process. There are amazing cookbooks for kids, like The Complete Cookbook for Young Chefs or the Little Chef Series, that can help you find recipes perfect for planning your picnic party menu together.
SUGGESTED READING: Find Me If You Can: Birthday Edition
If your little reader loves a seek-and-find thrill, Find Me If You Can is perfect for them. In this birthday edition, turn each page to see if you can find your little one's smile among party hats, balloons, candles, and more! Personalization options for 1, 2, or 3 faces to find creates a party on every page.
SUGGESTED READING: Fancy Nancy Complete Tea Party Gift Set
While a picnic is tons of fun, a personalized tea party is second to none! In this personalized gift, your child will find their name on pages of etiquette lessons, recipes, fashion tips, and more. Then, they can put their talents to the test with the accompanying Bella Butterfly Tea Set. This 17-piece play set is made of durable, food-safe plastic components perfect for any park picnic event.
Even if you're pressed for time or money, these super simple gestures and activities can make your little one feel special. Whenever possible, get them involved and have them help you, savoring that quality time and planning many more great memories together.
Enjoy the sun, fun, and celebrating your special someone,
Your Friends at Put Me in the Story