All year long, moms work hard to make magical moments for their families - planning parties, taking trips, kissing cuts, and making memories full of love to last a lifetime. But life is hectic and sometimes things don't go according to plan...or you forget to plan completely!
While we recommend snagging Amy Knapp's Big Grid Family Organizer Wall Calendar from our friends at Sourcebooks for next year, if you haven't planned a way to celebrate Mother's Day this year, have no fear! There are still quick, fun ways to create magical moments with your loved ones.
1. HAVE A MOTHER'S DAY PHOTOSHOOT
In this age of smart phones, it's easier than ever to have your very own photo session at home! Gather your little ones around and decide on a theme using things you can find around the house – dress in matching colors, pose with pets and props, get silly hats, or find your favorite corner of home to take some smiling, happy photos together.
This activity can be as serious or silly as you want and leaves you with wonderful photos full of fond memories.
2. TAKE A WALK DOWN MEMORY LANE
Whether a new mom or homework-soccer-dinner-ballet balancing pro, remembering that this is a day to stop and celebrate every moment so far is of the utmost importance!
Get together with or video call loved ones to explore photos or souvenirs you've saved over the years. Scrapbook your favorite snapshots, watch old videos, or simply reminisce on the journey to hold your little one in your arms. However you choose to remember, just take a moment to celebrate every precious memory made and each new one to come.
3. PUT ON AN IMPROMPTU CONCERT
Fire up your music player of choice, build the playlist of your dreams, and get ready to sing and dance along to all your favorite songs! This silly, energizing activity creates space for sharing as you choose music with your little one, silliness as you sing and dance together, and lot of fun memories. Pick songs you'd want to dedicate to each other and perform a duet or two.
Even if your little one is a bit too small to dedicate their second encore to how great you are just yet, make a playlist of music you want to share and enjoy with them one day!
4. CREATE A PERSONALIZED BOOK
It wouldn't be a Put Me in the Story celebration without the mention of books! Though you may not be opening your gift on your special day, sitting down with your little ones to choose your next great storytime adventure together is a great gift of quality time now...and every storytime after when the book arrives!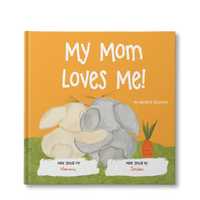 My Mom Loves Me
This colorful personalized book by Marianne Richmond is perfect for babies, toddlers, and young readers alike. Personalize this charming book to include your child's name and Mom's name (e.g. Mommy, Mama) on the front cover and throughout the text. This gift includes a special dedication page with a photo and message from you.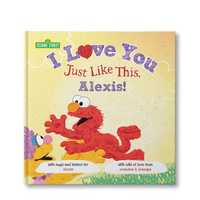 I Love You Just Like This
Show your little one the many ways you love them with the help of your friends over on Sesame Street! There are lots of ways to say "I love you," but it's how you share and show it that matters most. This personalized book will show your little one how much you love them - just as they are.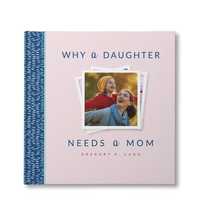 Why a Daughter Needs a Mom
Turn this New York Times bestseller into a personalized gift book with a photo and dedication message! Show your mother how important she is to you and all the wonderful reasons you'll always love and need her.
More important than gifts on Mother's Day, remember to let the mother figures in your life know just how much you love and appreciate them! While gifts are grand, memories of love last forever.
Have a loving Mother's Day,
Your Friends at Put Me in the Story