On Earth Day, we celebrate the many gifts that our beautiful planet gives us each day (and how to keep it that way). From warm sunshine overhead to soft grass under feet, simply exploring the great outdoors with your little one can't be beat, but it's also a great day to learn!
The very best way to celebrate our beautiful home is to teach kids how they can care for it. We've picked our top books and resources from our friends over at Sourcebooks Kids for teaching little ones about protecting our planet and how they can help.
1. WATCH EASY-TO-UNDERSTAND VIDEOS
It's no secret that most kids could spend hours parked in front of screens watching videos. So why not find a simple, engaging video to explain some of the issues that our planet faces?
Like this one of beloved scientist Bill Nye the Science Guy explaining what would happen if all the ice on earth melted!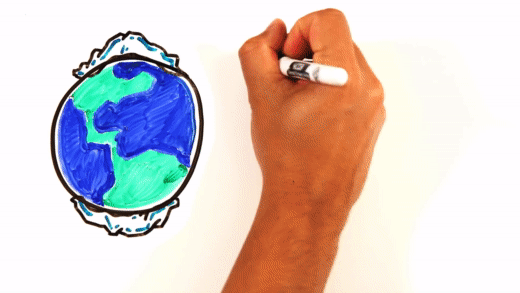 ---
SUGGESTED READING: Climate Change for Babies
This addition to the Baby University library tackles a hot topic for little scientists. Climate Change for Babies is a simple introduction for children (and grownups!) that answers complex questions like: what is climate change, and what can we do about it?
[Amazon] [Barnes & Noble] [IndieBound]
2. PLAN A LESSON ON GOING GREEN
You know that conversations around how to help the planet are important, but it's not always easy to know where to start. Luckily, that's because there are so many ways to make a difference! In this thorough kindergarten – third grade lesson plan, explore different topics with discussion points, activities, and more as a way to get the conservation conversation started.
What Does it Mean to be Green? Lesson Plan includes: learning about going green via...environmental beautification, healthy living, waste elimination, and so much more!
SUGGESTED READING: What Does It Mean to be Green?
In this empowering book, kids discover amazing facts (like how our food travels an average of 1,500 miles to be on our plate!). Beautiful illustrations explore the many different ways we can help protect the Earth's most precious resources, save the planet, and live greener lifestyles.
[Amazon] [Barnes & Noble] [IndieBound]
3. GET CRAFTY AND CREATIVE
If your kid is more hands on or you want something to entertain them while you discuss, consider a creative earth-inspired craft or activity that you could do together! It could be something as simple as painting rocks or collecting leaves to creating scavenger hunt surprises.
These craft kits, made by our friends at Dawn Publications, are filled with fun and educational activities to try.
The Dandelion Seed Activity Kit
A Drop Around the World Activity Kit
4. GET OUTDOORS AND EXPLORE
One of the easiest ways to show kids how awesome our earth can be is to get outside and help them explore! Plan a walk around your block, or take a trip to the park, discuss how the trees give us shade or how left behind litter can harm our animal neighbors. Help your little one think about what our earth does for us and what we can do for it, too!
SUGGESTED READING: Trees Make Perfect Pets
Abigail is determined to get the perfect pet. So, she chooses Fido - he keeps her cool from the sun, stays where she tells him, and even gives her air to breathe. That's because Fido is a tree! An endearing story and fun introduction to kids gardening and environmentalism.
As the weather warms and the flowers bloom, make room in your schedule for celebrating our planet with your kids each and every day. Encourage them to explore more and appreciate the great outdoors!
Have a happy Earth Day,
Your Friends at Put Me in the Story