Summer is here and one thing is clear - it's time to get outdoors and explore! Naturally, the summer activity that we love most at Put Me in the Story is taking a good book along for the journey while we soak up some sun and have outdoor fun.
The theme for this month's summer reading list is World Oceans Day (June 8th) and we've partnered with our bookish family at Sourcebooks Kids and Dawn Publications to share a few resources and our favorite books to learn and grow what we know.
1. PLEDGE TO REDUCE PLASTIC
National Geographic for Kids has an excellent resource page all about going plastic free! Tips for hosting plastic free parties, plastic free snacking, and even for talking to local restaurants about their role in helping our planet. Sit down with your little one to discuss the plastic you use in your home and brainstorm ways to reduce it.
SUGGESTED READING: A Dolphin's Wish
Every year, huge amounts of plastic end up in our oceans. Luckily, there's something we can do to change that! Follow along as Daddy Dolphin and his son show readers what we're doing wrong, then be inspired to take action and make a difference!
Featuring educational back matter, this beautiful ocean tale offers readers a peek into life under the sea.
[Amazon] [Barnes & Noble] [IndieBound] [Sourcebooks]
2. ORGANIZE A LOCAL CLEAN UP
Depending on the amount of litter around your neighborhood or in your local parks, this event can be as simple or elaborate as you'd like – making it a fun, flexible way to get out and make a difference.
"A park is public space, and cooperating to take care of something that belongs to all of us is a way for people in the community to meet each other and start new friendships," according to Useful Community Development, "It also builds community spirit."
Your community might not be near a body of water, but most litter ends up clogging our water ways eventually. Keeping your community clean helps prevent further pollution and keeps your green spaces fun for everyone!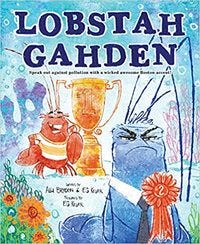 SUGGESTED READING: Lobstah Gahden
Walt is a proud lobstah whose dream is winning the annual Swell Gahdens contest. But when heaps of gahbage floating down from above end up in his gahden, something must be done!
From the illustrator behind Last Week Tonight's A Day in the Life of Marlon Bundo, this delightfully punny story about ocean life, conservation, and cooperation is perfect for sparking conversations.
[Amazon] [Barnes & Noble] [IndieBound] [Sourcebooks]
3. LEARN AND LISTEN
It can be difficult to get little ones involved, or even interested, in caring about our planet. For someone so small, these problems can seem far too big for them to try and tackle! But engaging children with different types of information about how our planet works and helping them understand nature's importance, can motivate them to make a difference.
There are countless videos, games, and activities to try engaging little ones in a fun way. Try starting with the Water Cycle videos and games provided by Project WET (perfect for little learners) and explore their site for so much more!
SUGGESTED READING: Over in the Ocean
Learning becomes fun with this book about the animals of the ocean. Based on the classic children's song "Over in the Meadow," kids will sing, clap, and count their way among pufferfish that "puff," gruntfish that "grunt," and seahorses that "flutter." Help kids appreciate the beauty and biology of coral reefs and the big wide world around us!
Summer is the perfect time to visit ocean beaches or cruise out to sea, so when you're with your little one, let them know how thankful they should be. Our planet provides such beautiful places for us to enjoy and it's our job to keep them clean!
Have a happy World Oceans Day,
Your Friends at Put Me in the Story