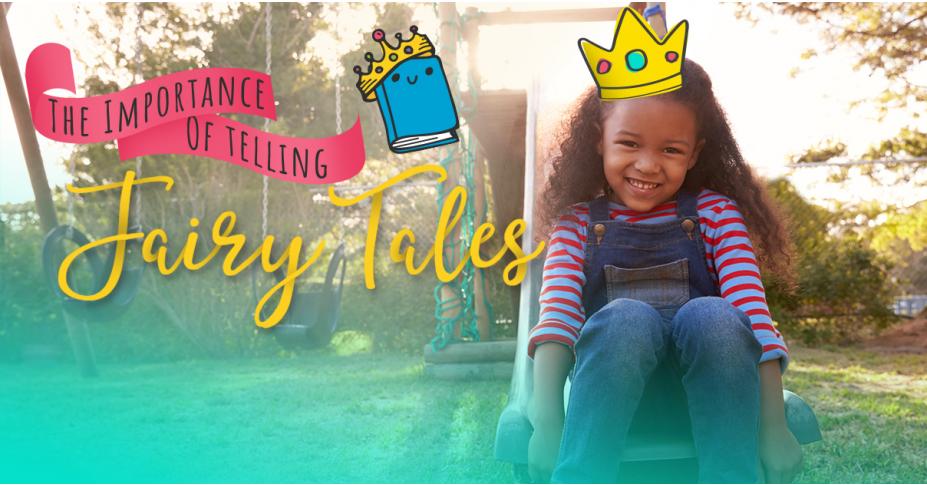 The Importance of Telling Fairy Tales: Why do such strange (but charming!) stories continue to entertain, inspire, and teach us after all this time?
Isn't it amazing that we can still recite the story of Goldilocks and the Three Bears, Three Little Pigs, or even Cinderella, years after they were told to us? Telling or reading fairy tales to children helps them grasp the meaning behind a story and relate to its moral or message. Sometimes a particular fairy tale speaks to a child directly and resonates with them deeply without them even realizing it!
Fairy tales are stories of magic and wonder. They feature fantastic creatures, faraway places, and dreamlike elements. There are many different kinds, from Robert Southey's The Story of the Three Bears to L. Frank Baum's The Wonderful Wizard of Oz (which just might be the first American fairy tale!) to Disney's Tangled and Frozen.

Deepen your connection with your little one by reading a fairy tale together. It can be a classic, a creative retelling of a favorite, or a completely new story with magical elements. You can also choose a fairy tale that speaks to an issue your child might be grappling with. After all, fairy tales can teach us important lessons such as...
The power of storytelling. During the early developmental stages, hearing fairy tales helps boost children's listening and comprehension. Discover the history behind each fairy tale together to illustrate how stories are told, passed down, recorded, and told again. Plus, hearing a favorite fairy tale over and over again will teach your child how to tell a story in correct chronological order and pay attention to detail.
Overcoming a struggle or problem. Sometimes it's easier for a child to internalize a story's message when it's simplified or reversed, or the setting/situation is removed from what they're currently facing. Think about Goldilocks and the Three Bears. Goldilocks is drawn to the Bears' cozy cottage—hot porridge, comfortable chairs, soft beds. But, the bears see Goldilocks as a threat in their own home when really, Goldilocks should be terrified to wander into an unfamiliar home that belongs to a family of scary bears!

Confronting fear. Fairy tales like Little Red Riding Hood might give your children the courage to confront those scary monsters hiding underneath the bed or in the closet. It's important for your children to know that it's normal to be scared, but also that they have the power to overcome their fears. Fairy tales let children to see their fears played out and conquered, which gives them the confidence to do the same in real life.


A desire for adventure. It's no secret that fairy tales are the perfect escape. Some, like The Three Little Pigs, are great for toddlers because they are at an age where they are ready to move beyond their comfort zones. These stories can inspire your children to be open to new experiences and excited to explore the world. And while fairy tales help little ones understand individuality, they also teach the importance of supporting one another. What a great message for parents and children to visit again and again!

You've heard your child say it before: "Tell me a story." Reading a book or telling a fairy tale before bed is one of the most valid reasons to snuggle up and postpone bedtime just a bit. Today, especially, is a great day to cozy in with your child and start a story with "Once upon a time…"

READING TIP: If your children are babies or toddlers, be sure to choose fairy tale collections with lots of great artwork and illustrations.
Get crafty! Authors like Brothers Grimm, Perrault (Cinderella), and Hans Christian Andersen (The Ugly Duckling) are among the most famous fairy tale writers, but your child can be one too! Celebrate Tell a Fairy Tale Day (February 26) by encouraging your little one to create their very own fairy tale. First, have them read or recite a story. When they've finished, ask them to talk about their favorite parts of the tale. Then, use these elements to help them invent their own. If your child's old enough to write, each of you can write your own and share your different renditions. If your child is not writing yet, record your child's ideas and come up with a story together.
What are your favorite fairy tales? Share the fairy tales you and your children love the most with us!
---
What if your daughter could become the main character in some of the most beloved fairy tales?

Star of the Story

In this magical book, your child flies across Neverland as Peter Pan, walks the Yellow Brick Road as Dorothy, and goes on a legendary dive as Captain Nemo. By the end of the story, your little one will be begging to visit the children's section of the library to find a book that is juuust right for them!
References
Reading with Babies, Toddlers & Twos, Susan Straub, KJ Dell'Antonia, Rachel Payne.