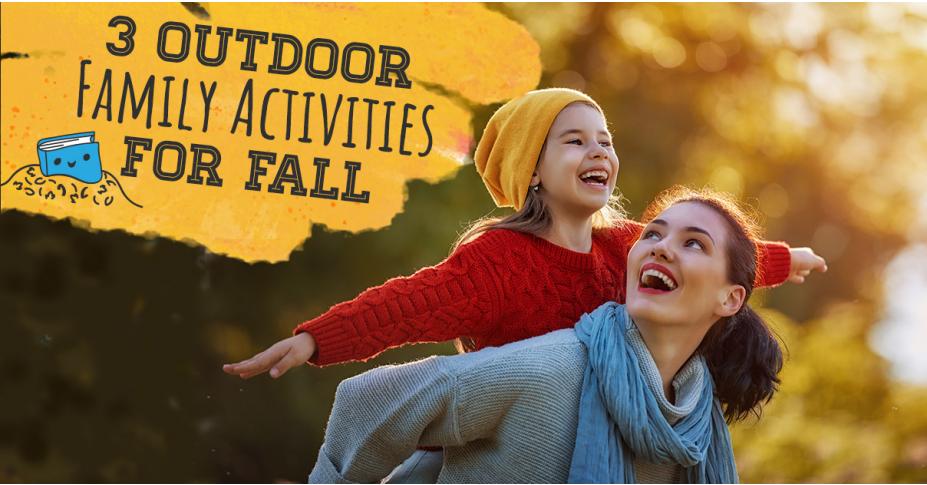 3 Outdoor Family Activities for Fall
The days are shorter, the nights are cooler, and the leaves are starting to change: fall is coming! Before the weather goes from crisp to cold, treat your family to some quality time outdoors. Being outside is a fun, refreshing way to relieve stress and bond as a family. Here are some activities you and your little ones can do together.
Spend time in your backyard or at a local park
Grab a blanket and pick out a comfy spot to observe nature. Keep restless kids occupied by asking them to draw what they see around them—leaves, squirrels, birds, and bugs. You may also want to bring a book to read aloud. We recommend A Halloween Scare at My House, a spooky, silly story with an ending that's sweeter than candy.


Enjoy the leaves
Have little ones to help you rake leaves into a big pile, then take turns jumping into it. If you've already cleared all of the leaves from your yard, play Jump the River instead. It's easy! Just set two sticks parallel to each other on the ground, then ask your child to jump across the "river." After each attempt, widen the river by moving the sticks farther apart. And if you slip, there's no water to worry about!
Take a trip to an orchard or farm
An orchard is a welcome change of scenery for kids who spend most of their time at school or home. Spend the day picking apples, then use them to make some of your favorite fall treats (apple crisp, anyone?). Don't forget to check out the pumpkin patch if your little one wants to make their own jack-o'-lantern!