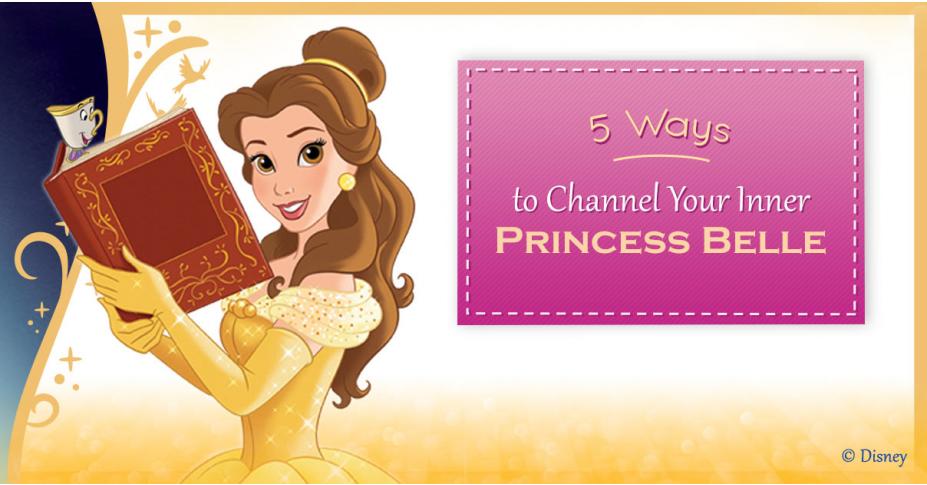 5 Ways to Channel Your Inner Princess Belle
Belle has been one of our favorite characters since she melted the Beast's heart (and ours!) on the big screen. She's a smart, independent, and compassionate woman as well as an amazing daughter and friend. Check out this list of Belle-approved activities that you and your growing princess can do together!

Read

The townsfolk find it strange that Belle always has her nose stuck in a book, but little do they know that a good story is pure magic! Browse your own bookshelf or check out a new adventure from your local library.

Sing

Whether she's dreaming of a future beyond her small town or admitting that the Beast may not be so bad after all, Belle loves to express her feelings through song. Give it a try! Singing relieves stress, boosts your mood, and it's fun!

Befriend someone who is lonely

Is there someone in your life who always seems to be alone? Do they sit by themselves at lunch time? Are they picked last for teams? Start up a conversation with them. Sometimes all it takes to get a person out of their shell is a simple hello.

Never judge a book by its cover

Belle fell in love with the Beast and proved that not all beauty is skin deep. Every person has a quality that makes them unique. Look for the inner beauty in those around you, especially those who seem a little rough around the edges.

Invent or create something

Belle grew up helping her father with his inventions, and she defended him against people who didn't understand that making something new usually involves a few failures. Write a poem, draw a picture, build a house out of cards—you won't know what incredible things you can accomplish until you try! The Disney Princesses are ready to DREAM BIG with your child! In Dream Big, Princess: Belle's Special Edition, your child writes, draws, and imagines all the things they can be, led by Belle and the rest of the adventurous and independent Disney Princesses.
This special edition has a brand new cover featuring Princess Belle with book in hand. As your little princess flips through the rest of the book, she'll discover details she's come to know and love from the original telling, such as song lyrics and additional illustrations of the Beast's castle, Mrs. Potts, and Chip.
Your child's journey begins with a personalized letter and Princess Passport, which she can use to check off each princess as she reads their stories. Whether she's comparing her bookshelf to Belle's, putting together a restaurant menu alongside Tiana, or listing treasures she's found on her travels like Ariel, your child will learn that being a princess is more than just wearing fancy dresses and living in a castle...it's about being brave, honorable, kind, and hardworking.
At the end, your child can match up each princess with her greatest wish, then fill in a special page with their own hopes and dreams. Nothing is more powerful than writing your own story!